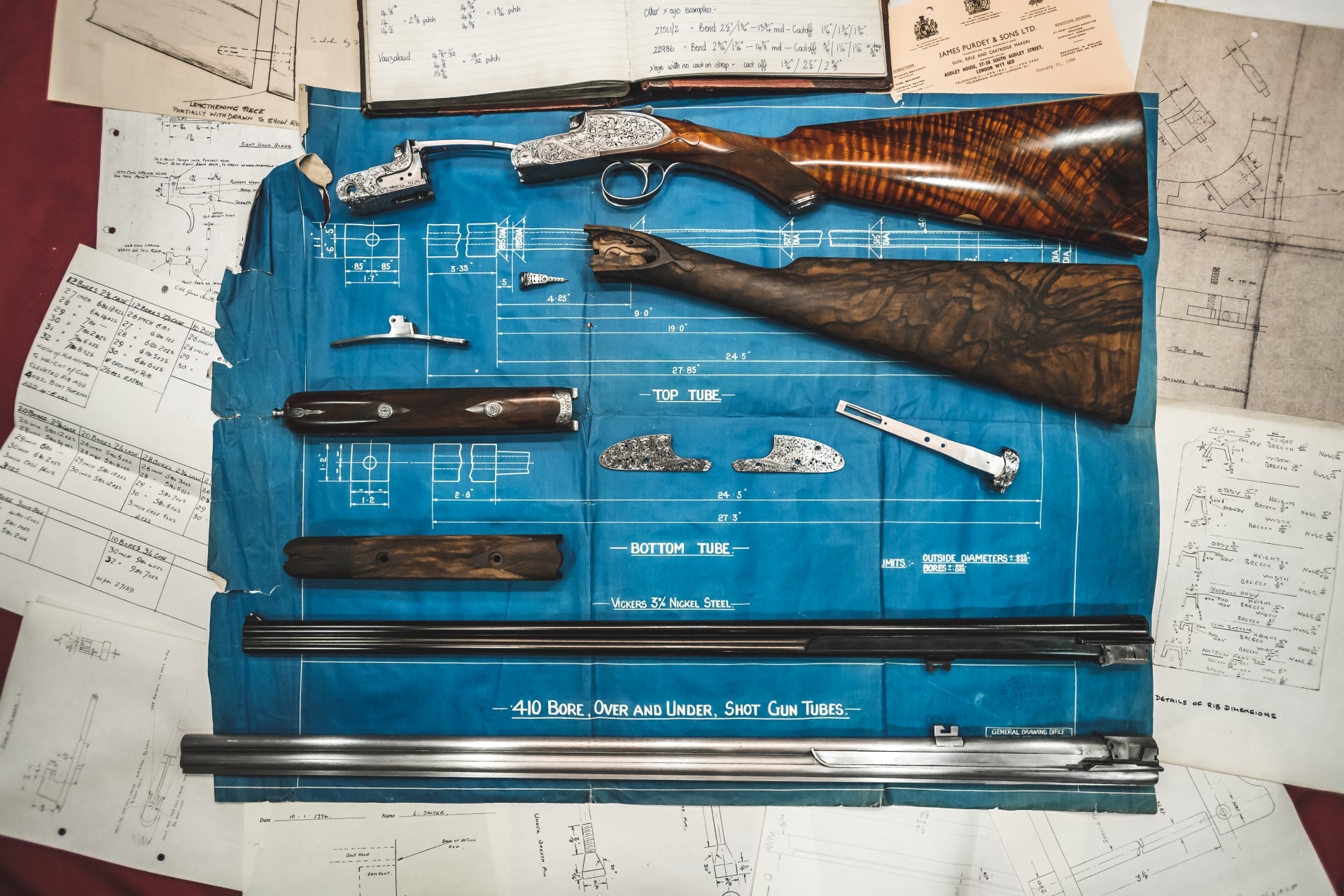 Gun Services & Repairs
A Purdey gun is something designed and built to be handed down through the generations. This means that purchasing a shotgun or rifle from us is only the beginning of our relationship. From servicing to storage, trust your gun with those who know best — because no one knows your Purdey as well as we do. 
Servicing your gun is a vital part of preserving its condition and longevity. Our skilled team can help you prepare your gun or rifle with a pre-season service, and provide any further recommendations you may need. Our post-season care will keep your gun in prime condition, ensuring it maintains its quality and shooting performance is at its best. Whatever your need, our team has the knowledge and passion to ensure you receive an unmatched standard of customer service.
The shooting world is constantly evolving and innovating. While faster and heavier game cartridges are thrilling, they take a toll on your guns. Your equipment is experiencing greater wear than ever before — that's why it's critical to ensure you're servicing it regularly and correctly. With the proper care, you can enjoy your time spent on the field without compromising your equipment. 
We offer the full scope of service and repair options, all performed by our in-house experts. Please note that repairs are estimated on an individual basis. 
Gun Servicing Options
Quick Check & Speedy Service

In recognition of your feedback, we've recently introduced two new servicing offers designed to make the process easier for you:

We are now offering a one-hour check where our expert team will give your Purdey a full assessment, before recommending any alterations or repairs. Alternatively we are offering a speedy service, perfect for a last-minute overhaul. If your Purdey needs work, leave it with us at the factory in Hammersmith or return it whenever suits. Or, if you've selected the speedy option, you'll have it stripped, cleaned and back in your hands within one week. 

While we would always recommend having your Purdey serviced either at the start or at the end of the season (subject to volume shot), these options provide an opportunity to keep your gun in top condition throughout the season. It could mean the difference between a good shoot day and a really great one. 
Maintenance Service

For regular maintenance, we offer:

• Strip & Regrease

• Strip & Clean

• Strip & Clean (heavy rust)

• Tighten locks and pins

• Tighten the action

• Regulate the ejectors

• Regulate triggers and pulls

• Wet weather clearance

We can provide a quote for more complex repairs or alterations.
Strip & Regrease

A Strip & Regrease is the minimum essential service for your Purdey gun. We remove the lockwork and forend then perform a visual inspection of the gun. Any accumulated dirt or grease is cleaned before the components are regreased. We ensure your gun is firing correctly and conduct a full test before we return it to you. 
Strip & Clean

We fully disassemble the locks and forend then clean any accumulated dirt or corrosion. A full mechanical inspection of the gun, including the barrels, is carried out. It's then reassembled, with the pins adjusted where necessary and the components re-greased. We ensure your gun is firing correctly and conduct a full test before we return it to you.

Our craftsmen might recommend a strip & clean for guns that are heavily corroded (rusty) or require special care.
Mechanical Service

Our senior craftsmen thoroughly strip down and inspect your shotgun or rifle. They produce a comprehensive estimate which includes any mechanical adjustments, repairs or replacements your gun requires. You'll receive this report within two weeks unless previously advised.

Purdey offers:

• Action jointing or repair

• Lock repair or replacement and fitting of new parts

• Ejector service, repairs or replacement and fitting of new parts

• Trigger service, repairs or replacement and fitting of new parts

• Pin tightening or replacement

• Top lever adjustment

• Alteration to chokes* 

• Other mechanical repairs

Please contact us to discuss your individual requirements.

*Please note this may require the gun to be submitted for proof.
Barrel Service

Whether it's a repair, re-black or providing a replacement set of barrels, our highly skilled barrel-makers would be happy to help with all your requests.

During each repair, our barrel-maker carefully looks for any pitting, dents, bulges or loose ribs. A full barrel inspection can also be specifically requested as part of a regular service.

Purdey offers:

• Barrels and ribs repairs

• Blacking of barrels

• Fitting or replacement barrels

• Proof testing
Stock Service

We're proud to offer a complete range of stocking services, which include:

• Stock finishing, alterations and repairs

• Forend finishing and repairs

• Alterations to measurements

• Extensions with wood, rubber heel pad or leather-covered heel pad

If you require it, we can also fit a new stock to your existing gun. This will be done using one of our hand-selected walnut blanks, which will be shaped and fitted to your exact requirements.
Engraving Service 

Our skilled craftsmen can fit and engrave new ovals. We can also advise on other engravings on the action and barrels; although this is subject to the condition, age and history of the gun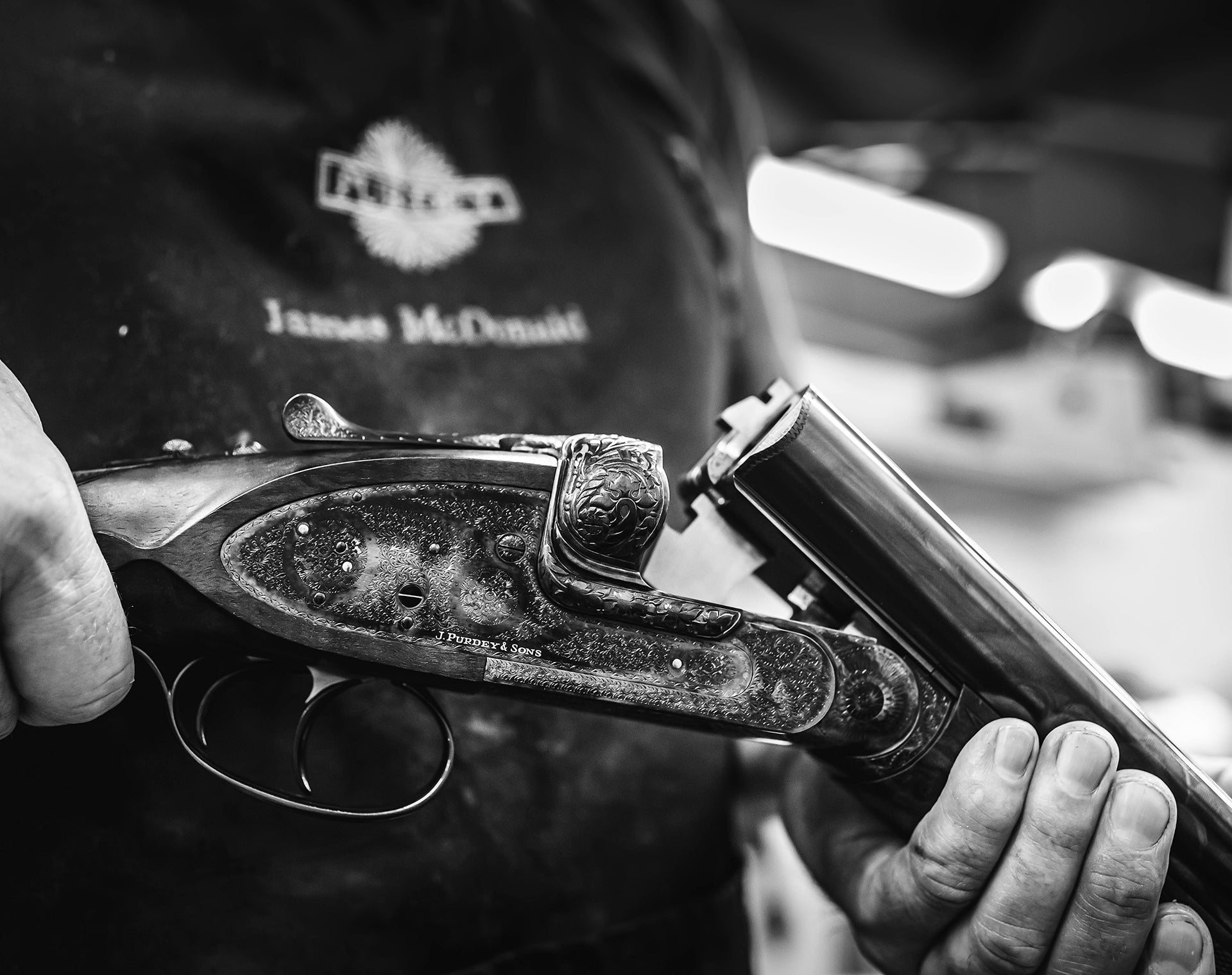 Gun Care Video Series
Learn how to correctly care for your Purdey from the comfort of your home with our series of gun care videos.
Discover The Series