The Process Of Building A Bespoke Purdey
A one-of-a-kind experience. Work alongside our master craftsmen to create a Purdey uniquely your own.
When a tailor creates a suit, they are precise with their measurements and techniques so you receive a garment that fits you exclusively. We follow the same principles when creating our bespoke guns. One of the joys of this process is the knowledge that, from the very first fitting, every element is made entirely to your personal specifications. Each detail of your bespoke Purdey — the wood you select for your stock, the barrels, the personalised hand-engraving, the finishing — is tailored to your preferences. 
To build a gun alongside our dedicated team is to witness traditional English gunmaking at its finest. When we create a Purdey gun, we aim to make it beautiful — and to make it work beautifully for a hundred years and beyond. This process is your way to add your name to the Purdey legacy. Step inside our workshop and immerse yourself in an experience like none other.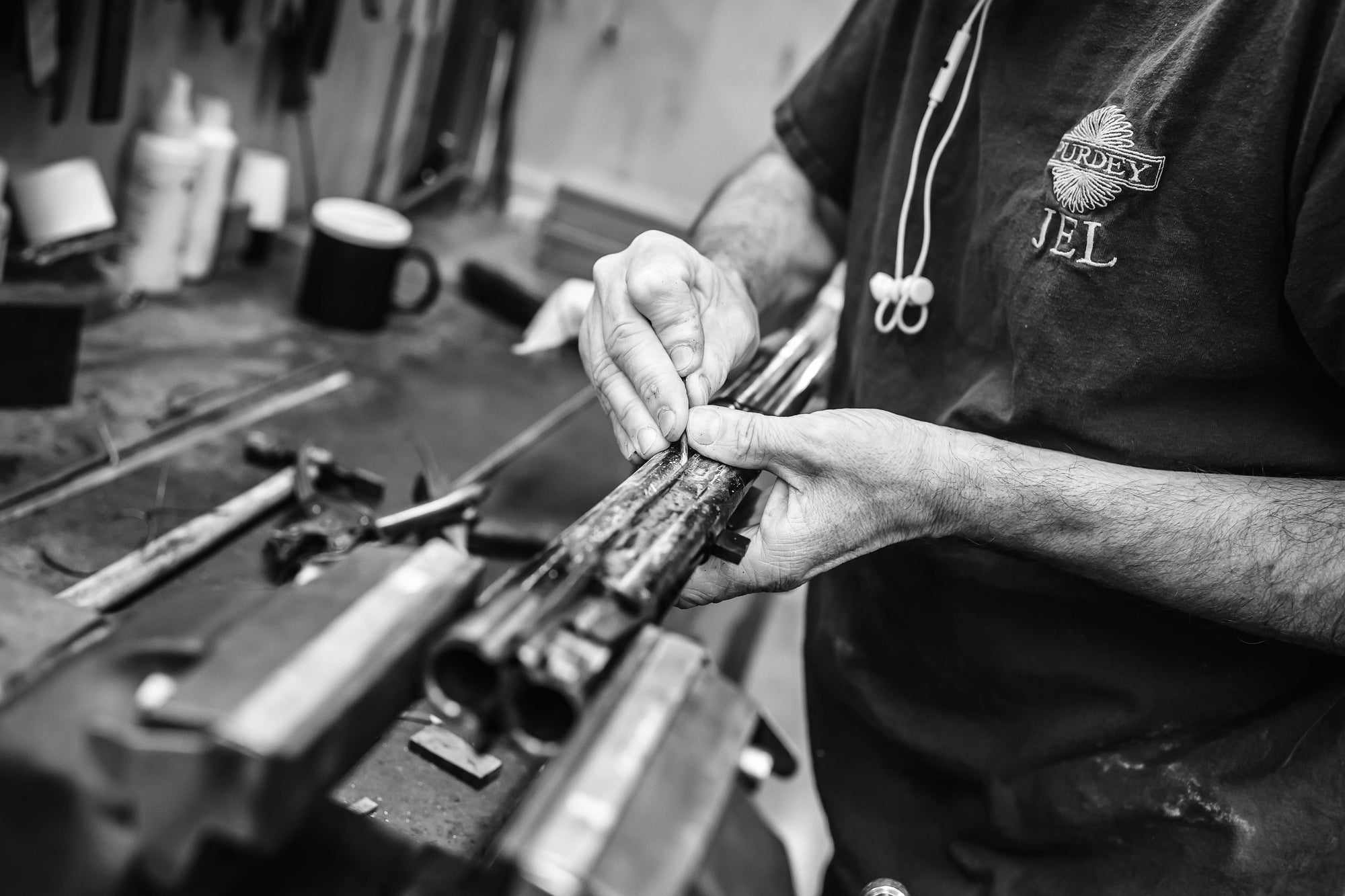 The making of a purdey gun begins with the barrels.
Our barrel tubes are made to very precise measurements; initially, they're machined to within four thousandths of an inch. Our barrel-makers then hand file the tubes, making sure that each barrel is perfectly round and concentric. The tubes are also 'struck up' using specially shaped striking files, to give them the unmistakable Purdey profile and finish.
The individual tubes are silver soldered together at the breech-end. Ribs, having been filed to the exact profile of each tube, are tin soldered in the traditional way, using pine resin as the fluxing agent.
Chopper-lump Construction Jointing
Purdey uses chopper-lump construction jointing for our side-by-sides barrels, which makes them stronger than the more commonplace dovetail. And instead of the standard monobloc, our side lock over-and-under barrels are made using superior demi-bloc construction.
Chokes are individually cut and then finished using lead lapping, giving internal bores a very high finish, as only this traditional method can. They are accurate to less than half a thousandth of an inch. You may choose from five rib profiles for a side-by-side shotgun, and two for our over-and-under, to achieve the sighting picture that you wish to see.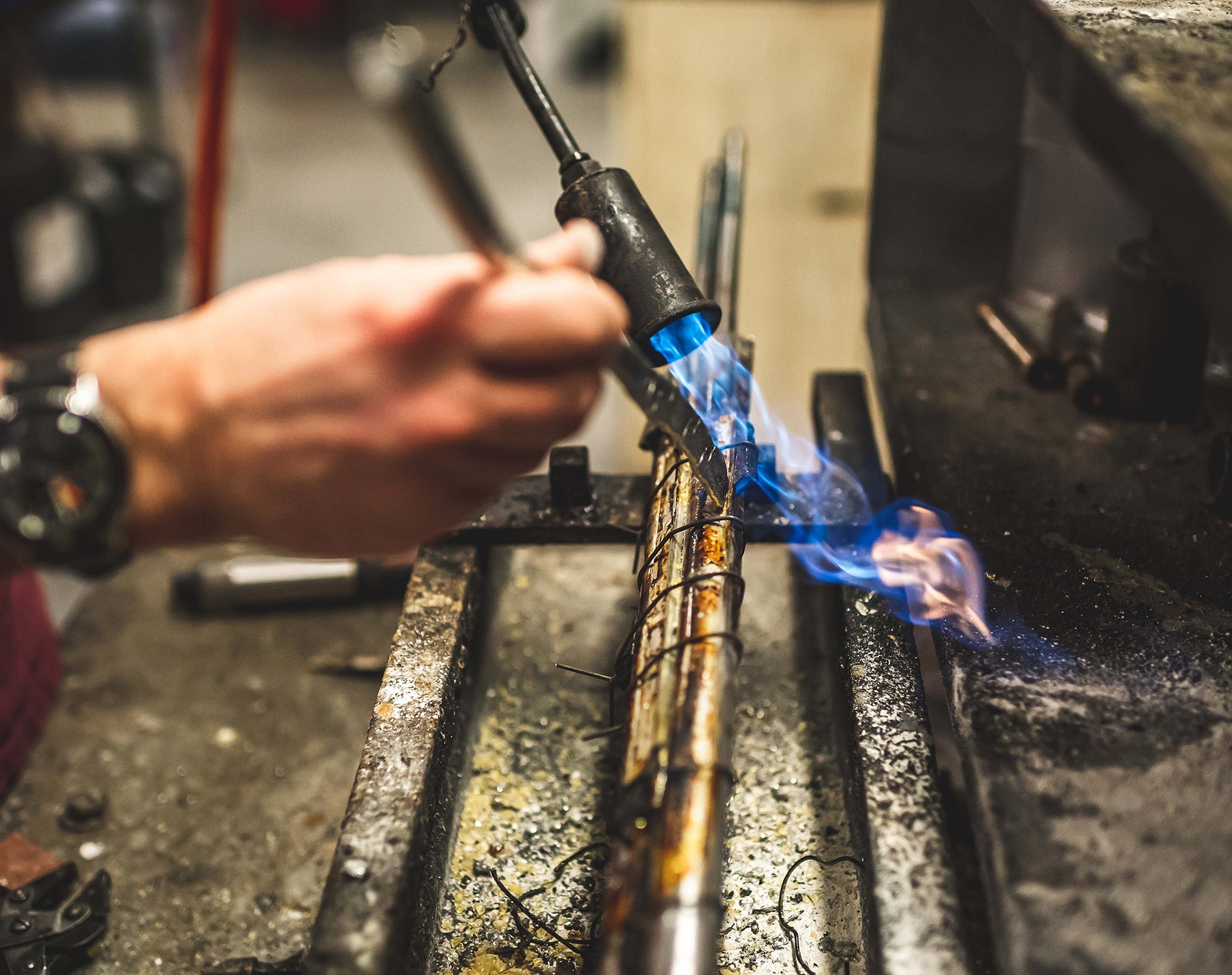 Our Best London Gun
Our Best London gun is still made much as it was when Queen Victoria reigned. Each is unique: built to the customer's specific requirements. All bespoke actions are machined and built in our west London workshop.
Our side-by-side action mechanism was invented by Frederick Beesley in 1879. It retains a portion of the energy in the mainsprings to help open the gun – an inherent self-opener.
The action in our over-and-under was created by James Woodward & Sons, and patented in 1913. Our own Ernest Lawrence perfected it, after we bought Woodward's in 1949. We have used it ever since.
We use sophisticated CAD systems and CNC machines to cut the basic shape of the action, which is made from a solid steel forged ingot. This is handed to the actioner to work on.
You can choose either square bar, round bar or ultra-round bar actions, for both side-by-side and over-and-under guns.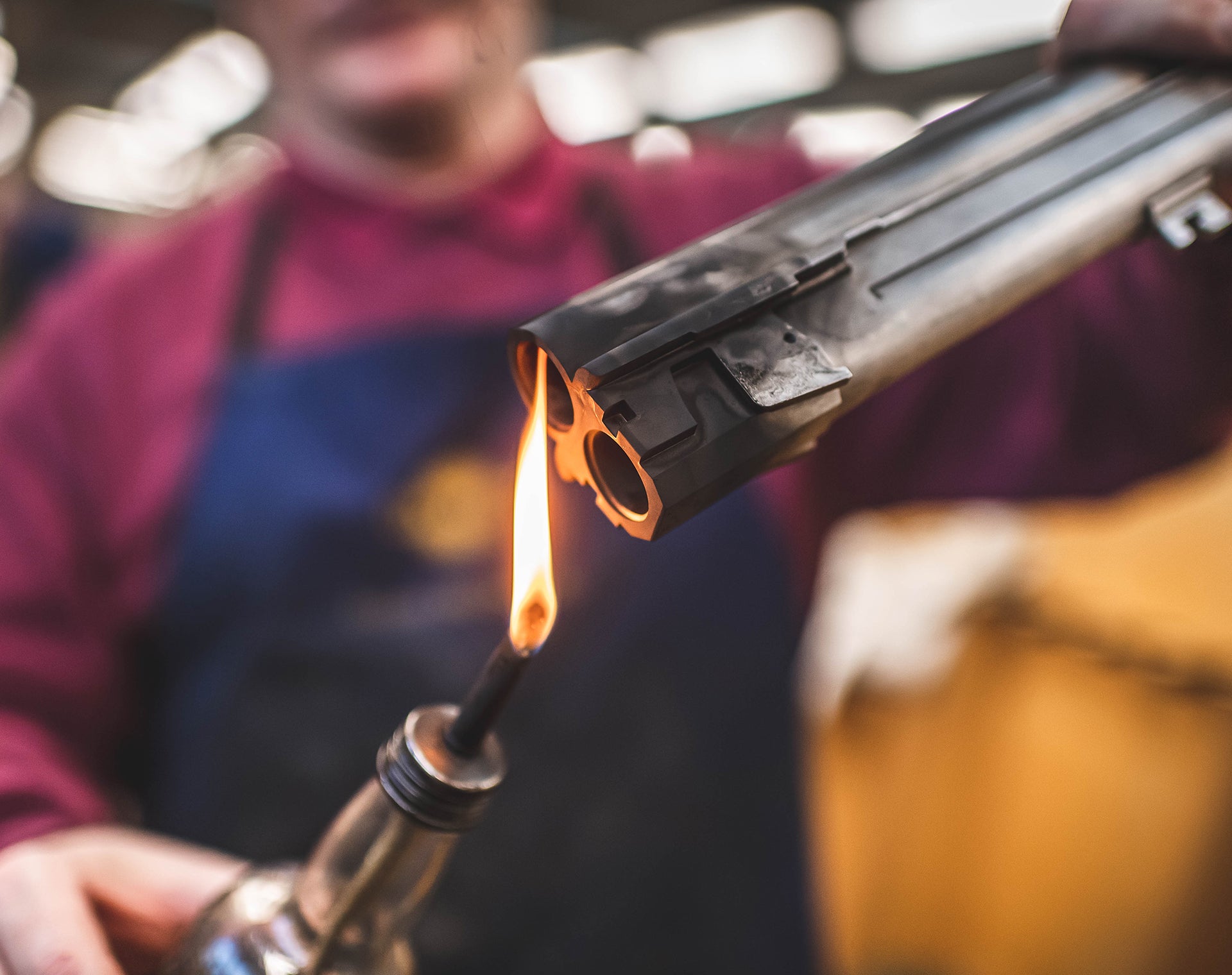 The Actioner's Work – Smoke Blacking
As with all the close fitting work in our factory, the actioner uses smoke black from a paraffin lamp to play soot over the bearing surfaces, in search of any unevenness.
Action slots are prepared, and barrel lumps split for jointing. We bend and file the top strap, and fit the locks and disc set strikers. The top lever, safety work and spindle soon follow.
Next comes the fore-end. The barrel-joint is created, with the hook cut from the front lump, and the crosspin fitted. Strikers are set in, ready for detonating.
Detonating of the Action
'Detonating' is the name given to the making of the distinctive Purdey shape on the outside of the action breech.  It is imperative that the action is absolutely perfect, which is why a Purdey actioner will spend over 100 hours getting everything exactly right.
Proofing
From here, the action maker will submit the gun to the London Proof House, where all our actions are subjected to Magnum proof.
Locks
The lock is the mechanical heart of the gun, and ours are always hand-filed, to achieve an impeccable fit. Lock making is meticulous work. The tumblers, swivels, springs and sears need to fit another perfectly, to ensure a smooth, consistent movement.
Triggers
Our double triggers, turned for either a left or right-handed shot, can also be enhanced, with a hinged front trigger to prevent trigger finger bruising.
Lawrence Salter perfected our inertia-operated single trigger when he was Managing Director of Purdey in the 1970s. It is simple, effective and fast. Prior to this development, we used a mechanical gate type single trigger. We do not make selective single triggers.
With the possible exception of a fine Swiss watch, there is no more elegant mechanical creation than a handmade sidelock.
Ejectors
Ejectors must be reliable, synchronised and powerful. Our side-by-side ejectors are based on a modified Southgate system, dating back to 1889. Our over-and-under system was modified and improved from the Woodward in 1949, under the aegis of Ernest Lawrence.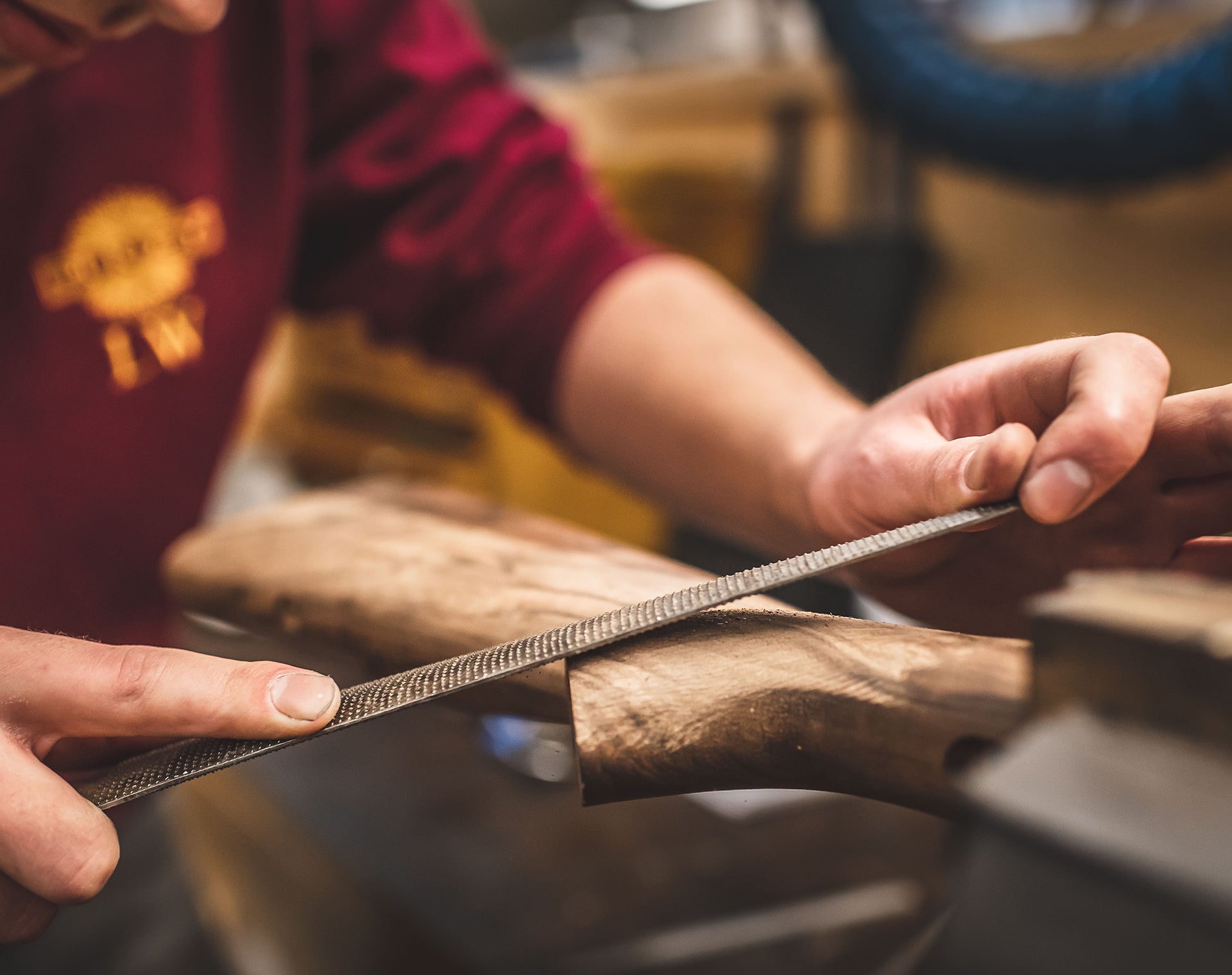 Achieving the Perfect Fit
James Purdey was trained as a stocker, and it was his obsession with measuring customers up accurately on which the Purdey reputation was built. While he was with Manton, it was said that guns stocked by James Purdey always fitted the best.
That he had mastered every other aspect of gun-craft is still reflected in the way that Purdey guns and rifles are stocked today, insofar as the stocker is responsible for a good deal of the ironwork, too.
It is not until he has hung the triggers, fitted the safety, and made the fore-end snap work, that his time with the stock is complete.
We only use the finest walnut (Juglans Regia) from Turkey. Every blank is individually chosen for its straightness of grain, figure and colour. We're proud to be able to offer you the finest choice possible.
Our stockers work to traditional Purdey gauges and shapes, delivering to the finisher a fully chequered and bored gun stock. This achieves the famous Purdey balance and weight.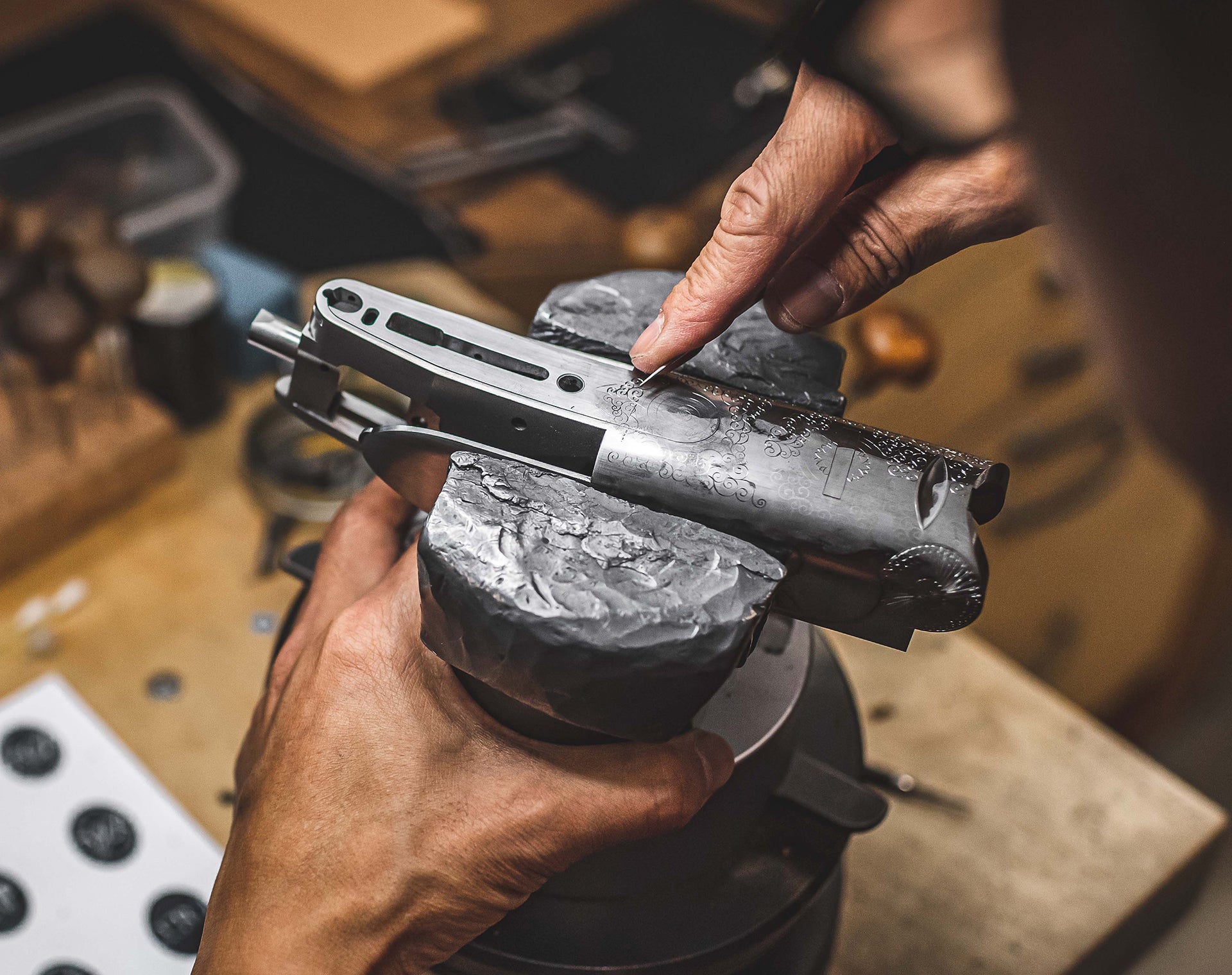 Engraving & Finishing
The art of engraving guns developed alongside the gentlemen's sport of game shooting. Not only does it help turn the shotgun from a cold metal object into a thing of beauty; it traditionally served a practical purpose, with discreet engraving softening the face of the metal, lessening reflection which might otherwise turn game.
Engraving is a personal choice, and one central to our bespoke service. Whether you would like a classic Purdey style, a variation on it, or something inspired by a personal passion, is entirely up to you.
Purdey Fine Scroll
From the 1860s onwards, our guns have been known for their standard fine scroll, sometimes referred to as rose-and-scroll, first introduced by the engravers Lucas and Mace. The way in which James Purdey & Sons have consistently produced the finest examples of this style has resulted in it often being called 'Purdey scroll'.
Traditional Rose and Scroll
Traditional Rose and Scroll is the most frequently requested engraving style, and is included in the price of your gun. It is usually associated with a colour case hardened finish.
Extra Finish
The taste for large scroll and large scroll and game scene inscription dates back to the late-nineteenth century, when carved, chiselled and pictorial work became popular.
Contemporary Purdey engraving is much influenced by the Kell school, which engraved many Purdey guns in the first half of the twentieth century. Up until the 1950s, more lavish examples of gold work had usually only been commissioned by the Maharajahs of India. However today, gold inlay is an increasingly popular way of embellishing Purdey guns, inspired by the arms and armour of the Wallace Collection, the Victoria and Albert Museum and the Tower of London.
We are always happy to assist our customers with reference to our engraving archives. There is no reason not to immortalise favourite shooting dogs, for instance, which you can commission to see running down the lock plates and body of the action.
Finishing
The 'finishing' of your gun is known as 'putting together'. It is one of the most complex stages of the build. Putting together is a two-part process, and takes around 75 hours, spread over about three months.
When the gun reaches our finishing shop, it is then a matter of assembling all the intricately crafted wood and metal parts. The finisher in the first half of his finishing must regulate the mechanism of the gun for function and reliability. In the second half of his finishing process, he will concern himself with the look of the gun, namely the final colour and polish of the wood and metal.
Purdey finish their stocks to a high gloss rather than a matt finish. The slacum oil finish Purdey uses is a true oil finish, and is still based on the traditional formula handed down from Ernest Lawrence. Slacum finishing takes up to six weeks, with in excess of twenty coats being applied.
The finisher, on completing your gun, will then take it to our shooting grounds, and test it as if in the field.